Horizon Hobby, LLC. is an international hobby product distributor, headquartered in Champaign, Illinois. It currently manufactures various hobby-grade radio-controlled models, as well as Athearn model trains and die-cast models, which it sells direct to consumers as well as to hobby. It Sells the Blade line of RC Helicopters and the Spektrum line of Radio Control equipment including the Flybarless receivers.

Mikado is a world-class manufacturer of RC Helicopters and Electronics. Products include the Logo Line of helicopters and the vBar FBL systems as well as the VControl line of radios. Located in Germany and with distributors around the world Mikado provides one of the best line of products for the RC Helicopter industry.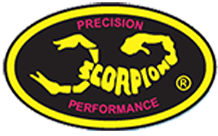 Scorpion Power systems is a world-class manufacturer of the Scorpion Brushless Motors and Speed Controllers for modelers worldwide. These products can take the heat of competition and come back for more. The Motors and Speed Controllers are not limited to competition use, and perform exceptionally well in all types of electric RC models.

Futaba has continued to be a leading innovator in the hobby radio control industry developing first-of-its-kind products for modelers world-wide. Futaba has been an integral brand used in countless world championship victories. We take great pride seeing what modelers can do with our products but our biggest accomplishment is the immeasurable family-bonding experiences that have occurred with Futaba products all over the globe.